The Hearing Dashboard provides an easy-to-use visual interface that shows you every participant on the call, while also giving you valuable control and information about your remote court hearing.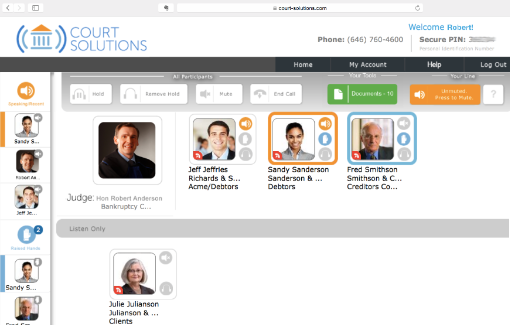 Everyone can see who is speaking (or making noise) on the call. The person that is speaking will have a card that is highlighted in orange. On the left sidebar there is a list of the recent speakers for your reference.
Participants can raise their hand to contribute to the call, rather than interrupting the proceeding. When their hand is up, their card is highlighted in blue and is listed on the left sidebar. A lawyer can always speak up, as long as they are not on hold, but most times raising a hand will suffice.
On the Hearing Dashboard, the Judge can mute or unmute anyone with the mute/unmute icon on a participant's card. On the top bar, the Judge can mute all participants with a single touch.
The Judge can also put some or all participants on hold and securely sidebar with any participant.
Thank you for choosing CourtSolutions-Raising The Bar For Court Communications